UKGCC, KPMG Ghana and JLD & MB host webinar on how to communicate ESG stories and their impact
UKGCC, KPMG Ghana and JLD & MB host webinar on how to communicate ESG stories and their impact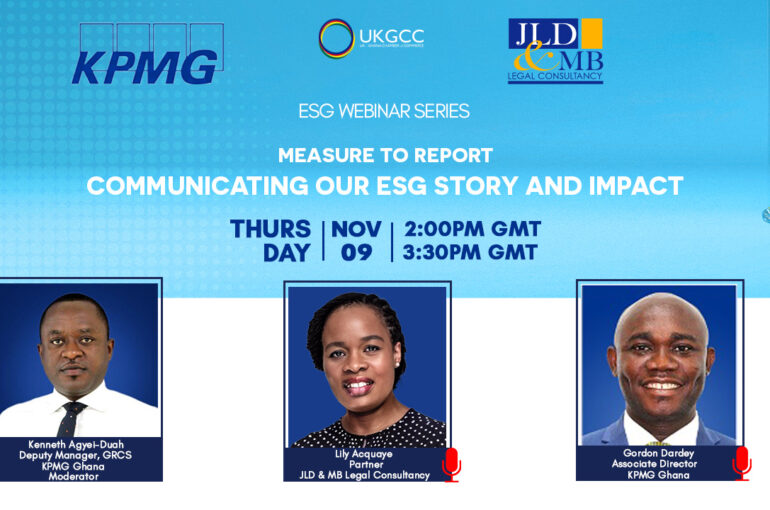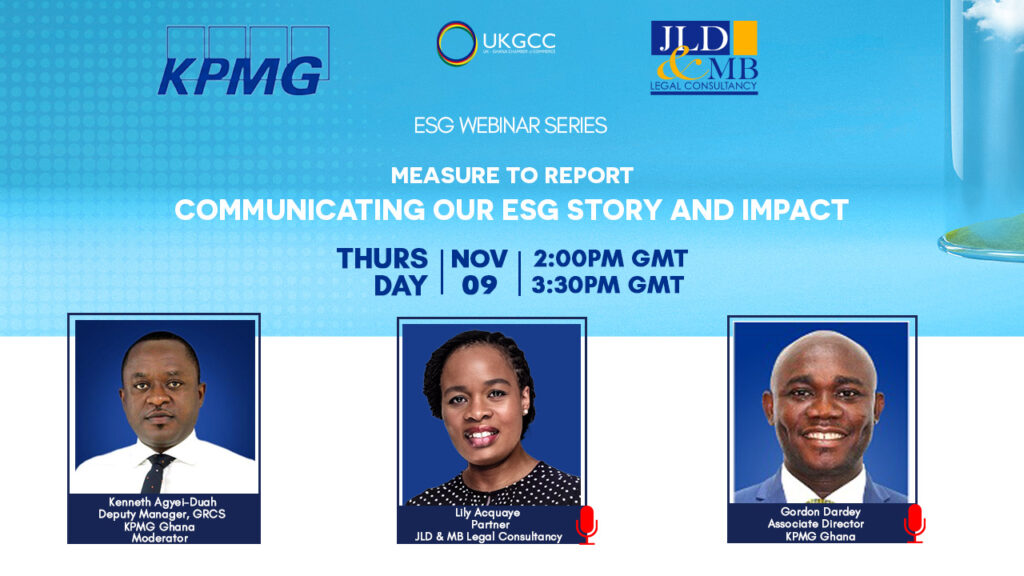 UKGCC, together with KPMG Ghana and JLD & MB Legal Consultancy, has hosted a webinar on 'Measure to Report: Communicating our ESG Story and Impact", to equip business executives with the knowledge and skills necessary to successfully report their ESG efforts.
Speaking during the webinar, Gordon Dardey, Associate Director at KPMG Ghana, indicated that integrating ESG (Environmental, Social, and Governance) reporting into annual corporate communications and financial reports is a critical aspect of demonstrating a company's commitment to sustainability and responsible business practices.
Mr. Dardey outlined a 6-step process to successfully reporting ESG stories which comprise commitment to ESG; materiality assessment; integrated reporting; narrative storytelling; transparency and gaps; and feedback mechanisms.
Addressing the first step – commitment to ESG, he remarked that it is paramount that senior leadership and the board of directors support the company's ESG policy before anything substantial can be achieved.
The business should then carry out a materiality assessment to identify the most material ESG issues to one's industry and business. According to him, it is important to focus on these issues "as they are the most relevant to your stakeholders and your long-term sustainability".
He urged businesses to integrate ESG metrics into their annual financial reports by showing how ESG factors impact financial performance and long-term value creation, as the third step "This integration demonstrates the interconnectedness of financial and non-financial performance".
The fourth step in the process, narrative storytelling, requires the development of a compelling narrative around ESG efforts, explaining a company's vision, goals, achievements and challenges in a way that resonates with your stakeholders.
He advised businesses to use storytelling to make the data relatable.
Regarding the fifth step, transparency and gaps, Mr. Dardey urged businesses "to be transparent about your ESG challenges and areas where improvements are needed". According to him, acknowledging shortcomings and outlining plans for improvements demonstrates authenticity".
Finally, he emphasised the importance of establishing a feedback mechanism for stakeholders to provide input and ask questions about the report, addressing their concerns and queries promptly.
What is ESG?
According to Mr. Dardey, ESG (Environmental, Social and Governance) entails a company's or institution's commitment to portray how their activities impact the environment, social aspects such as employee health and safety, and on issues concerning risk management and supply chain management, which constitute governance.
Benefits of ESG to businesses
Highlighting some key potential benefits of ESG, Mr. Dardey elaborated on financial benefits, employee performance, brand reputation and talent attraction, and retention.
Mr. Dardey revealed that CEOs are increasingly agreeing that ESG programmes improve financial performance based on KPMG's 2022 Global CEO outlook.
On employee performance, he commented that ESG provides employees with a sense of purpose which correlates with higher job satisfaction and productivity.
Emphasising the importance of ESG in talent attraction and retention, Mr. Dardey noted that talent attraction and retention is a benefit of ESG, referencing research undertaken by the Bank of America. The findings suggested that 94% of Gen Z and 87% of millennials preferred to work with a brand that supported ESG.
"If you are a company, you know talent is very good for business. ESG is something you should prioritize".
Legal landscape of ESG in Ghana
Speaking on the legal aspects of ESG in Ghana, Lily Acquaye, a Partner at JLD & MB LegalConsultancy, emphasised that every company in Ghana, irrespective of size or industry, is mandated to consider ESG in decision-making under the Companies Act.
She revealed, however, that "currently in Ghana, there is no all-encompassing ESG law but there are a number of laws, regulations and directives that govern aspects of the three pillars", i.e Governance – Companies Act, 2019 (Act 992); Social – Labor Act, 2003 (Act 651); and Environment- the Environmental Protection Act and the Environmental Assessment Regulations.
Both speakers concurred that ESG is a comprehensive measure of a company's sustainability, encompassing how it is run and its effect on the environment and stakeholders.
The webinar discussed related topics such as: tracking ESG performance metrics, ESG stakeholder engagement, the global standards for sustainability disclosures-IFRS S1 and S2, innovative ways to reduce plastic waste and reporting challenges and compliance issues.
Kenneth Agyei-Duah, a Deputy Manager, GRCS at KPMG Ghana moderated this second in the series of UKGCC/KPMG Ghana's ESG knowledge sessions.
Watch the webinar here https://youtu.be/tAgei7l8D3g