UKGCC hosts Breakfast Meeting with Ghana Revenue Authority
UKGCC hosts Breakfast Meeting with Ghana Revenue Authority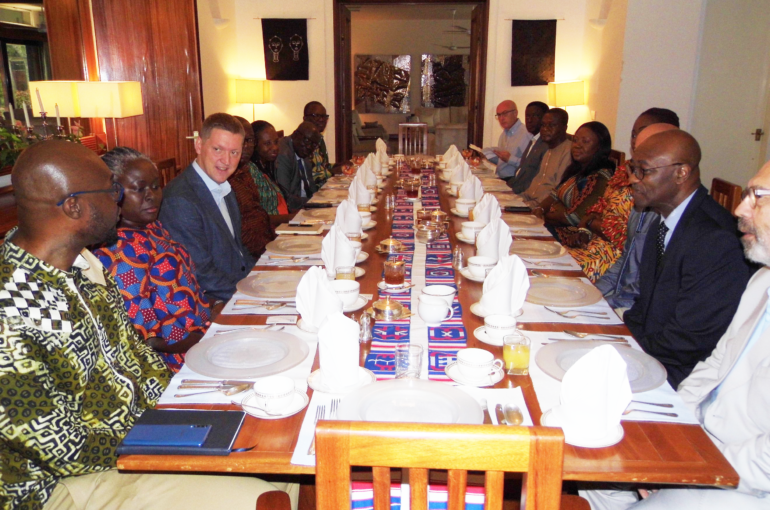 The UK-Ghana Chamber of Commerce (UKGCC) organized a business breakfast meeting for a selected group of its Platinum and Sterling member companies on the 5th of July 2019.
The programme which was hosted by the British High Commissioner to Ghana, H.E.Iain Walker ( Patron of the UKGCC) at his residence in Accra was to give them the opportunity to engage more directly with the GRA. In attendance was the Deputy Commissioner General of GRA, Mr. Edward Gyamerah as well as the Technical Adviser to the Commissioner General Mr. Henry Yentumi. Together, they addressed the concerns the participants had and updated them on some of the latest developments at the Ghana Revenue Authority.
The new developments at the GRA highlighted by the Deputy Commissioner General and Mr. Yentumi included the following:
Digitization of GRA's processes to ensure easy payment of taxes
Introduction of new technologies to improve tax compliance especially in the informal sector of the economy.
Inter-agency Collaboration – Working with key agencies such as the Registrar General's Department and the Ghana Chamber of Telecommunications to share data electronically.
Partnership with the National Lottery Authority and the banks to widen the tax net to encompass the informal sector more effectively.
Some key issues raised by members included the following:
The difficulty in accessing tax refunds from GRA;
Plans to speed up the current withholding tax regime;
Taxing at the point of consumption;
Request for wider consultation with the private sector before new policies are rolled out;
Concern that the industrial sector is a large contributor to government revenue, but industrial areas have very poor infrastructure thus the Commissioner General should advocate for them to get better roads, etc.;
Expansion of the tax net and what progress has been made over the past 5 years; and
A review of the current VAT regime as it imposes a heavy cost burden on businesses in Ghana.
Stepping up of GRA's public education on its initiatives.
The Deputy Commissioner General of GRA mentioned areas of support they needed to ensure effective delivery of their mandate. These included research funding to inform key policies that are rolled out and assistance to help drive tax compliance.
UKGCC member companies present included Guinness Ghana Limited, Golden Exotics Limited, Crocodile Matchets, Holdtrade Ghana, LMI Holdings, Facol Group, Contracta, Tullow Ghana Limited, Vodafone Ghana Limited, G4S and Subsea 7.