UKGCC is International Chamber of the Year!
UKGCC is International Chamber of the Year!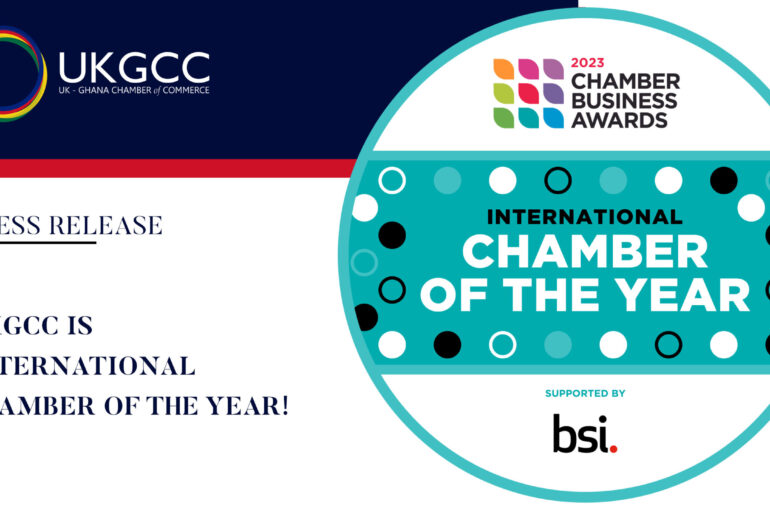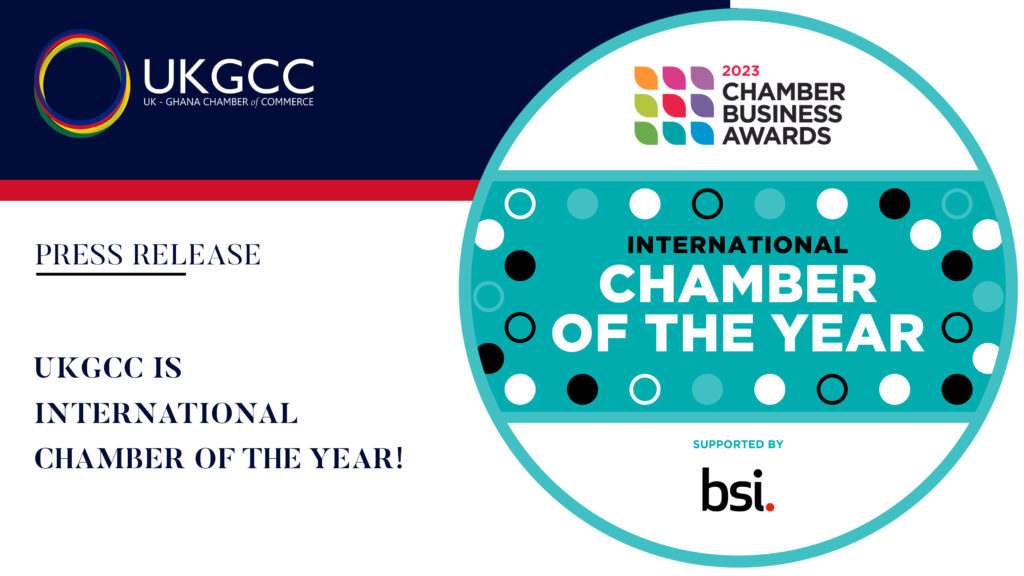 The UK-Ghana Chamber of Commerce (UKGCC) has been named International Chamber of the Year 2023.
This accolade, sponsored by British Standards Institution (BSI), was conferred by the British Chambers of Commerce (BCC) during its Annual General Meeting.
UKGCC beat strong competition from the British Business Group Dubai and Northern Emirates (Runner up), British Chamber of Commerce in Japan, British Chamber of Commerce Kenya, and British Norwegian Chamber of Commerce to secure the prestigious title of International Chamber of the Year.
"Judges were wowed by the UKGCC's keen eye for detail and the way it had wired into the issues that really made a difference to its members. They praised its hard work to promote trade with the UK, and its impressive advocacy work around tax laws".
Sarah Howard, Chair of the BCC, congratulated UKGCC and urged it to take huge pride in the award, which was won in the face of incredibly tough competition.
The BCC's Chamber Business Awards, now in their 20th year, provide an opportunity to recognise and celebrate the achievements of the Chamber Network, and the vital support Chambers provide to businesses. 
Adjoba Kyiamah, Executive Director of the UKGCC, remarked "I am excited that our hard work and dedication has been recognised by the BCC.
I am also grateful to our member companies- the reason for our being; our Executive Council and UK-Advisory Board; our Patrons, Harriet Clare Thompson (H.E), UK High Commissioner to Ghana, and Papa Owusu-Ankomah (H.E), Ghana High Commissioner to the UK & Northern Ireland; and our numerous partners whose support over the years have culminated in this prestigious achievement.
We have already shattered expectations. But we are inspired by this recognition to reset the bar for excellence and continue to do more for our member companies with our networking, advocacy, and trade service work".
The UKGCC was established in 2016 in Ghana to promote trade between the UK and Ghana. It is the leading private sector organisation proffering trade and commerce support for UK and Ghana businesses.
The UKGCC provides exceptional support for its members through the sharing of knowledge and ideas, creating platforms for building stronger networks and providing linkages with Government and its agencies. One of its key foci is to see Ghana become a significant economic partner for the UK as an export market, import source, investment destination and vice versa. It exists to further the business interests of its members across both countries and create more business opportunities.
The UKGCC is backed by the British and Ghana Governments through the UK-Ghana Business Council and the British Chambers of Commerce in the UK, and is Africa Scotland Business Network Strategic Partner.