Stakeholders urge diaspora to consider crowdfunding as a tool for national development
Stakeholders urge diaspora to consider crowdfunding as a tool for national development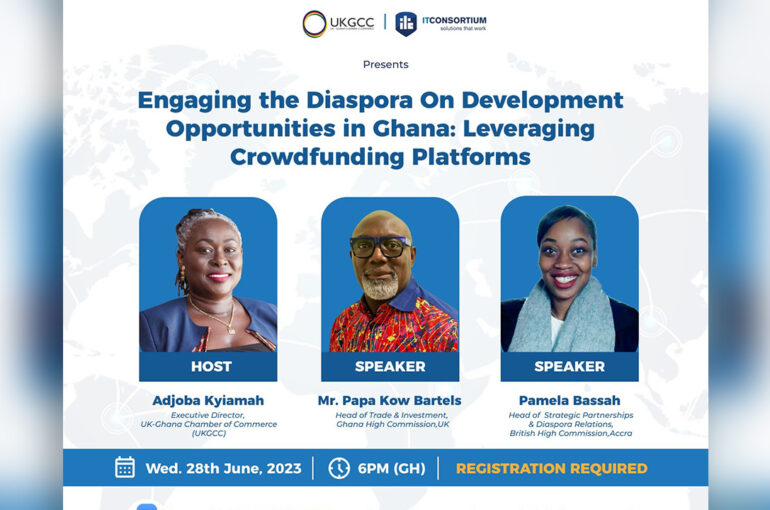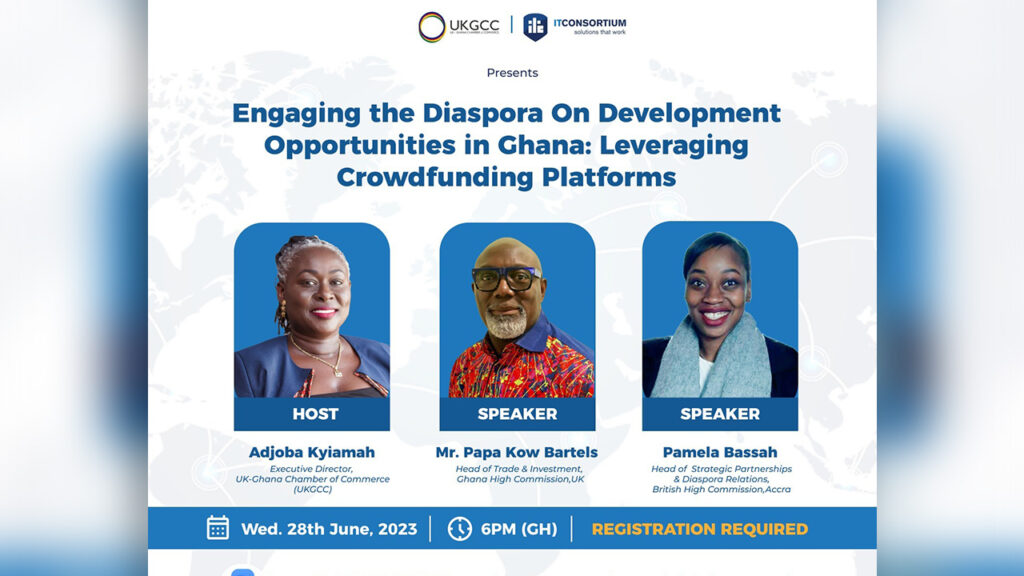 Mr. Papa Kow Bartels, Head of Trade and Investment at the Ghana High Commission, UK has called on the diaspora to consider crowdfunding as an avenue to support Ghana's development.
Speaking during the UKGCC and IT Consortium's webinar on "Engaging the Diaspora on Development Opportunities in Ghana: Leveraging Crowdfunding Platforms", Mr. Bartels remarked that Ghana's economy is largely dependent on a few commodities which have led to a huge socio-economic deficit. He, therefore, urged the diaspora to leverage on the two major modules of crowdfunding: Equity crowdfunding and Peer-to-peer crowdfunding -also known as Debt crowdfunding- to design concrete programmes with respect to Ghana's development.
"We need to come up with projects that can address issues within our country that can turn our pathway around for good. If we can do this, people would come in and support not for gain but for recognition. These are the things we can do with regards to crowdfunding".
Mr. Romeo Bugyei, Managing Director of IT Consortium, a UKGCC Platinum member company, contributing to the discussion, said his organisation is collaborating with the Local Government Ministry and the UN Capital Development Fund (UNCDF) as part of tests for using crowdfunding as a means for development through donations.
Citing a practical example of a crowdfunding initiative in Ghana, Mr. Bugyei said "I know one platform that is made up of a team of Agronomists and Extension Officers that have registered farmers, and these farmers have their farms demarcated in hectares, and they may be into maize or vegetables or whatever.
So, if I want to invest in farming and I go to that site, what it gives me is that I can actually buy a hectare of tomatoes, which is what I am interested in, or a mixture of vegetables. And that intermediary has the capacity to go to the field, ensuring that these people are doing the work as they are supposed to, so that at the end of the day, the produce is also sold, and then the investor, who might have invested 1,000, 10,000, 5,000, or whatever, gets their principal and interest back. So, that is the ecosystem that is being built in the country to allow for crowdfunding."
Mr. Bugyei added that some measures are being taken to ensure that Ghana has an open space for investors and startups to employ more people so that development is not hinged on just government but individuals that are seeking to invest in the country.
The crowdfunding solution
In recent years, crowdfunding platforms have emerged as powerful tools for mobilising financial resources, fostering entrepreneurship, and driving sustainable development. The platforms provide inclusive and accessible means of raising capital by connecting individuals with innovative projects, start-ups, and social enterprises. Leveraging crowdfunding platforms presents an exciting opportunity to engage the diaspora and tap into their entrepreneurial spirit, creating a collaborative ecosystem that fuels economic growth and social impact in Ghana.
IT Consortium's Chango App: A crowdfunding tool for national development
IT Consortium has introduced a crowdfunding platform to facilitate economic growth and social impact. Chango- a mobile application approved by the Central Bank of Ghana, is made up of both private and public groups which brings people together based on agreed terms and conditions to raise funds. According to Mr. Bugyei, some people have created groups on the app to raise funds for educational funds and other projects in their communities.
Mr. Bugyei revealed that there are a number Municipal Assemblies on the Chango app, who are raising money for specific projects within their environs.
"The whole idea is to leverage the diaspora community, not just outside the country but within the country, to help chip in and develop things within their own community", he said.
"For each country that we operate in, we are required to have a license for the platform. Currently, we have a license in Ghana, so money can be taken out of the system in Ghana. We are in the process of obtaining our license for Rwanda, but we already have licenses in Kenya and Liberia. The reason for this is to ensure that wherever we are taking money from, the regulators there are comfortable with what we are doing.
Diaspora Engagement
Speaking on how the diaspora is being engaged to contribute to development in Ghana, Mr. Bartels remarked that through activities of the Ghana High Commission, UK and partnering with the UKGCC and the Ghana Investment and Opportunities Summit (GHIOS), some members of the diaspora and investors have started projects in the education, agriculture, automobile, and energy sectors.
Mr. Bartels urged diasporans and investors to take advantage of the untapped opportunities in Ghana's tourism sector, such as food and clothing.
Reacting to the issue of bottlenecks compounding the ease of doing business in Ghana for the diaspora community, Mr. Bartels encouraged webinar participants, and investors at large, to engage institutions such as the Ghana Investment Promotion Centre (GIPC) and the UKGCC to assist them navigate the processes and procedures.
For his part, Mr. Bugyei invited members of the diaspora to contribute at least a dollar to an ongoing campaign on Chango, in support of Korle-Bu Teaching Hospital's Cardiothoracic Centre.
The webinar also discussed a wide range of issues, such as requirements for equity investors for start-ups, equity funding, and the tax implications of crowd funding of funds from the diaspora to Ghana.
This webinar was moderated by Adjoba Kyiamah, UKGCC's Executive Director.